Stretch your budget with free gift cards. They're easier to get than you might think. With gift cards, you—or the person receiving the card—can choose what you want to buy. The cost of sending gift cards is a lot less than the cost of mailing packages. And you, or the recipient, can get more bang for your buck by shopping with gift cards during peak sale times. Here are all the easy ways to earn them in 2019.
PointsPrizes
PointsPrizes is an app that awards you points for taking surveys, downloading apps, testing products, signing up for sweepstakes newsletters, and completing other offers. You can even earn one point for every ten points your referred friends earn. PointPrizes has also gone to great lengths to screen all offers for viruses and scams.
When it comes time to redeem your points, you will be emailed a digital code. This code can be redeemed for a cash or retail gift card. It can even be redeemed for stores like Apple, Facebook, eBay, Amazon, Walmart, or one of your favorite gaming sites like the PlayStation Store, Steam, or Xbox Live.
Swagbucks
Swagbucks is one of the most flexible rewards programs you will find online. You can earn points (bucks) by completing a variety of online tasks.
Some of the ways you can accumulate points is by taking surveys, watching videos, playing games, surfing the web, review product samples, and shopping from a Swagbucks retail partner.
You will like Swagbucks because it is possible to get gifts cards for as little as $3 in value for your favorite stores like Amazon, eBay, and Dunkin Donuts.
You can also exchange your points for PayPal cash as well which is a cash gift card deposited directly in your PayPal account.
Swagbucks even periodically puts gift cards on sale making it possible to get anywhere from a 1% to 20% discount on select cards.
Currently, Swagbucks hands out over 7,000 gift cards daily and over $194,960,363 cumulatively in gift cards.
With so many options to earn points and being able to get gift cards to so many of your favorite shops and restaurants, it is no wonder why Swagbucks is popular.
Amazon Associates
One way to earn free gift cards through passive income is by becoming an Amazon Associate. By placing Amazon affiliate links on your website or blog for products that you recommend, you can earn a small commission for each product purchased through your link! Even products that you didn't recommend.
You are paid once you earn over $10 in affiliate income by cash or an Amazon gift card. You will need to read the Amazon Associates terms and conditions as residents of select states cannot participate in the Amazon affiliate program. If you live in a state that does qualify, this can be another option to monetize your blog.
Use Twitter parties
Let's start with this one since it's the closest to real free money that you can get!
We all know that social media is growing every day and increasingly becoming a part of our daily lives.
And to take advantage of this popularity a lot of businesses give away free stuff, like free gift cards, to draw attention to their products and services.
For example, sometimes you see small businesses and website owners host Twitter parties where they give away free gift cards to people who tweet using a specific hashtag for a certain period of time.
This is done to promote the business and get the word out.
So how do you find Twitter parties?
There are a few ways to do this.
-Follow your favorite companies
One simple way is to follow a few of your favorite companies so you can find out when they have one of these parties.
-Follow people in the know
Another way is to search on Twitter to find and follow a few people who Tweet about Twitter parties.
-Use Twitter party calendars
Another great way is to use sites with Twitter Party Calendars.
-Search on Google
Of course, you can always Google it.
Just visit Google and search for "Twitter parties free gift cards" (without the quotes).
Online Surveys that Give You Gift Cards
It seems like every day there's a new survey site popping up, so I'll only tell you about the best survey sites that give you the best rewards, including free gift cards.
Seriously, the range of compensation on survey sites is astonishing! I got suckered into one a couple of weeks ago that was offering like 12 cents to take a 20-minute survey. I won't name names, but I've definitely not included it here.
Some of the survey sites I'll share here offer five or six dollars for surveys that take less than 10 minutes. You can cash in or accumulate points and convert them into free gift cards, which I love doing!
And some even have you do fun tasks like play games and watch movie trailers.
Here's the rundown on my favorites and why:
Survey Junkie:
Super easy to start making money right out of the gate
Earn Rewards: Complete surveys and earn virtual points
Get Paid: Redeem virtual points for Paypal cash deposits or e-Giftcards
Vindale Research: You get an instant $2 signup bonus and the surveys are for fun, recognizable companies.
SurveyClub: You can get text notifications about new surveys, plus you also get entered to win into sweepstakes each time you complete a survey.
Credit Card Rewards
If you have a rewards credit card that earns points, you can most likely redeem them for gift cards. Finding a credit card that best fits your buying habits allows you to earn bonus rewards points quickly.
For example: you might consider a rewards card that pays you two points instead of one point per dollar spent at restaurants if you go out to eat on a consistent basis.
Your credit card might offer a few different reward point redemption options like cash statement credits or free airline tickets.
While not all credit card rewards program are created equally, exchanging your points for gift cards is often one of the most valuable redemption options.
Always try to redeem your points for at least 1% of the cash value (i.e. $10 equals 1,000 points or $100 equals 10,000 points) as the industry standard is to have rewards points worth one cent each.
If your points are worth less than a penny apiece for gift cards, you might consider choosing a more valuable reward, if possible.
Enter Blogger giveaway contests

Another way win free gift cards is through giveaways.
There is a few kind of contests bloggers run.
One is a sponsored one where a company sponsors a contest in order to promote their service or product and they giveaway prizes.
The second kind of contest is the one where bloggers themselves giveaway free prizes that include gift cards in order to get more likes, tweets, follows, etc.
How do you find these contests?
Again, there are a few ways.
-Search for 'em
This is as simple as doing the following:
Go to Google and type in " blogger gift card giveaway" (without the quotes).
Google will then display the result which contains sites that have gift card giveaway contests.
Pick one (or more) from the list and click the link to visit the site.
One you are on the site find out what the requirements are and participate.
-Use giveaway directories
Another much better way is to use giveaway directories.
And the beauty of these directories is that you can search by type of prize you like, in our case, free gift cards.
Here are a few:
Gift Cads/ Gift Certificates Giveaways – BlogGiveawayDirectory.com
http://giveawaycenter.com/giveaways
Cash + Gift Cards Giveaway – Giveaway Monkey
Blog Giveaways Directory – Bvdtest.com
"Why would they give away free gift cards just for just a Like or Tweet," you ask?
Promoting themselves for much cheaper than traditional advertising.
It's much cheaper to have a contest where you have hundreds of thousands of real consumers promoting your business and you give away 10, 20 gift cards, each worth $50, $100, $500 – than paying thousands of dollars to advertise on Websites, TV, Radio or Newspapers.
The exposure you offer them through liking and sharing is more than worth it to them, compared to the value of a $50 or $100 gift card they give you.
Ibotta
If you use an app to save money on groceries, like Ibotta, you can turn those rewards into gift cards. By shopping at one of 341 participating merchants and snapping a picture of your receipt, Ibotta will give you cash on select activated before checking out. You can also earn cash back when you spend at other online partners like iTunes, Groupon, Jet, and Boxed.
Once you have accumulated $20 in rewards, you can receive payment in PayPal, Venmo, or gift cards from Best Buy, Amazon, or Starbucks.
MyPoints: $10 Amazon Gift Card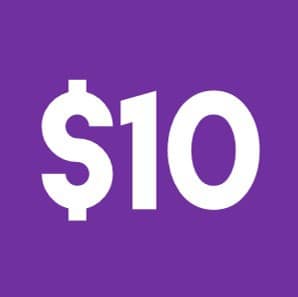 The MyPoints app has been around for eons. Well, at least since 1996. And they've provided a ton of ways for you to accumulate cash, collect travel miles, receive discount codes, and earn Amazon gift cards. Like other rewards programs, you can earn points by taking surveys, watching videos, and searching the web. But, they've added even more fun activities, like playing games, printing coupons and shopping online at partner stores.
And here's where it gets meta…you can earn points toward gift cards by buying gift cards. Kinda weird, but I like it.
Right now they have a online promo going where anyone who signs up will get a free $10 Amazon gift card after spending $20. Pretty sweet!
Ebates
Another favorite way to get a free gift card is by shopping with Ebates. This is a one-time deal in terms of free gift cards, but, you can continue getting cash back from nearly any online purchase.
When you first sign-up for Ebates, you can choose to receive a $10 Walmart gift card or a $10 Ebates cash bonus.
You receive the bonus after making your first $25 purchase with Ebates.
It is possible to earn cash back from over 2,000 online stores and at over 30 brick and mortar retailers too. Your free gift card will ship once you complete your first purchase.
Otherwise, Ebates will send your cash back rewards by mail or PayPal on a quarterly basis each time your cash back balance reaches $5.
Transfer Prescriptions
Another option to receive free gift cards is to transfer your prescriptions. Pharmacies can be very competitive in trying to compete for your medical needs and might be willing to hand out $25 gift cards if you switch pharmacies. Sometimes you might see targeted offers for when a local pharmacy closes or they are available to any new customer.
Some states do not allow pharmacies to offer incentive offers when you transfer a prescription. Also, be sure to check the prospective pharmacies prices. The free gift card might not be worth the increased medication costs if your insurance plan doesn't cover prescriptions at a particular pharmacy or they simply have higher prices than you currently pay.
Search and earn
Bing is running hard to catch up to Google in the search engine department, and they're prepared to offer incentives to stay in the race.
Sign up for Bing Reward and you'll build points towards gift cards with every search you make (though there is a daily cap of points to discourage people from abusing the system.)
You can even build these points by doing mobile searches, but you should be aware that the daily point cap is lower on mobile than it is on a regular PC.
MyPoints
Another rewards app is MyPoints that has been around since 1996. MyPoints primarily allows you to earn rewards points by shopping online.
You can earn bonus points when you purchase a featured deal like 4,000 points when you switch to Verizon or 3,000 points by riding with Uber.
But, you can also earn points by watching videos, reading e-mails, performing web searches, playing games, buying gift cards, and shopping with coupons.
Gift cards are available to over 75 different retail partners including airlines. You can redeem your points for gift cards starting at $5 in value.
As an example, you can get a $5 American Eagle gift card for 700 points and a $10 Amazon card for 1,590 points.
Each merchant has different point requirements for the gift cards as opposed to a flat-rate system that other sites employ such as 1,000 points will get you a $10 gift card to any retailer.
As an example, you can get a $5 American Eagle gift card for 700 points and a $10 Amazon card for 1,590 points.
Each merchant has different point requirements for the gift cards as opposed to a flat-rate system that other sites employ such as 1,000 points will get you a $10 gift card to any retailer.
Do offers to earn
Like MyPoints and Swagbucks discussed above, EarningStation is a GPT site.
They offer the usual suite of activities; surveys, web searches, and promotional shopping are all mainstays of the website.
The good news is that their gift cards are wide and varied, so you can really choose the type of reward you want.
Microsoft Rewards
If you have a PC and are looking for gift cards to the Microsoft Store, one of the best ways is to use Microsoft Rewards.
You can earn rewards each time you perform a web search through Bing on your computer or smartphone and earn bonus points by taking a daily quiz and other quick and fun activities that test your brain and help break up the daily monotony you might experience at the office or home.
Gift card options are very limited. You can redeem your Microsoft Rewards points for gift cards to the Microsoft Store for the next time you need to make a purchase like your Office 365 subscription, app, movies, and games.
Use Instagram to Find Gift Card Giveaways
Companies are always giving away cool stuff on Instagram, and oftentimes it's a gift card. The rules of the giveaways vary, but usually you just have to be following the account that posted the contest and like the image, comment, or tag someone.
The best way to find these opportunities is to enter these hashtags into the search bar:
#giveaway
#contest
#sweepstakes
#freebie
#freebiefriday
Recently, Instagram allowed you to start following hashtags, which means you don't have to manually search these terms every day. Instead, once you follow these hashtags, they'll show up in your newsfeed automatically! If you're lucky enough to score a win, you'll usually earn a discount code to a large digital retailer that you can claim at checkout. Hard to beat free stuff.
Xbox Live Rewards
Xbox owners unite! By joining Xbox Live Rewards, you can earn rewards points good for Xbox Store gift cards by completing missions, taking surveys and quizzes, and spending money at the Xbox store.
Rewards are good for any purchase within the Xbox store including games, movies, and TV shows.
A few tips
To take advantage of these opportunities, especially the online ones, you need to have a plan. You need to get organized.
Here are some tips to help you do that.
1. Don't spread yourself too thin
Carefully consider all of the sites above before you start going in deep on one.
The biggest mistake I see when people try to take advantage of these opportunities is spreading themselves too thin.
You should look into what will work best for you and commit to it, after all, you're trying to build small amounts of points into a worthwhile sum!
And that will be very hard to do if you're on 6 different sites throughout the day.
2. Do not pay a membership fee
All of these sites should be willing to get you in the door for free.
They want you to take part in their activities that are relevant to their sponsors, of course.
You are the customer and their tasks are the products, so the benefit they gain from your participation is more than enough payment.
If a site is putting up a paywall that prevents you from taking part, that's a huge red flag.
Close the page and move to somewhere that is more eager for your participation.
3. Know what information to give and what not to
Those survey-centric websites we talked about up above care who you are, personally.
They don't need to know your name, necessarily, but they're going to want to know how old you are, what your hobbies are, and what demographics you fit into. So, you should look elsewhere if that seems too personal for you.
Furthermore, if you do somehow end up on a sketchy website, it'll be more important than ever to protect your information.
4. Make an email address solely for the purpose of using these sites
Let's be frank, some of these sites are going to sell your email to their affiliates, and you're going to be getting a lot of emails.
Unless you're comfortable relying on your primary email address's filters (and Gmail does do an adequate job at sorting them) you're going to want a whole new address.
This also has the added benefit of protecting you in case you do end up signing up to a website that is untrustworthy.
5. Get multiple plates spinning at once
And what I mean by this is, these sites are multi-tasking friendly.
Do searches in one tab while videos play in the other, or take your phone with you and do tasks while you're waiting for your friend to join you, or while you're waiting for your dentist's appointment.
You'll get the most benefit out of these websites if you're also maximizing your time.
The participation they're asking for isn't too personal, so you don't need to take it too seriously if you're not giving them your full attention.
Closing thoughts
We all like getting gift cards.
Although taking surveys in order to earn gift cards is actuality a great way to use your free time, most of us hate filling out page after page of survey questionnaires just to earn a $5 gift card.
Thankfully, using some of the methods above, you can earn free gift cards without taking a survey.
Summary
Free gift cards can be just as valuable as cash. It is also possible to earn them in many different ways from playing games, answering surveys, shopping online, or even surfing the web. By doing what you do in everyday life, you can probably start earning gift cards without changing your routine.
Have you gotten gift cards for free in the past? Tell me how in the comments below!